Corporate Gifting
It's official. Brownies make the office happier, Monday meetings livelier, and Kevin from accounts slightly less grumpy.
We've created bespoke brownies for some top-notch names, so rest assured you're in excellent, slightly chocolate-smeared hands. Whether it's client gifting, work perks, or something else, get in touch today to find out how we can make your dream brownies a reality.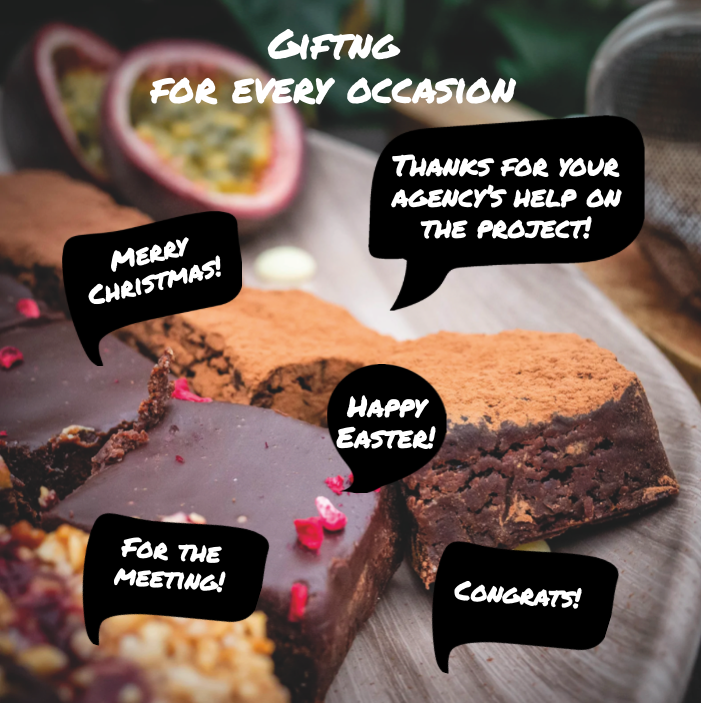 How to place a corporate gift order
If reading this has made you feel peckish, drop us a line using the form below. Alternatively, you can email us at info@badbrownie.co.uk
Why Bad Brownie?
Gourmet brownies, stunning flavours, top-tier ingredients.Handmade with love in London. Need we say more?
Much better than flowers, candles or other cliché gifts.After all, the way to a heart is through the stomach.
Unique brownies for unique businesses.We go the extra mile with custom logo brownies, bespoke boxes, and personalised gift notes.
Big orders get big discounts.Get in touch to find out more about our exclusive corporate offers.
We ❤️ the environment.From our low-waste kitchen to recyclable packaging, our brownies are guilt-free when it comes to sustainability.
Inclusivity rocks.That's why we cater to vegans, the wheat-free, and those crazy about keto.
A gift they won't forget.Our unforgettable brownies will leave a lasting impression long after the final bite…
UK-wide delivery to individual addresses.We'll deliver directly to your employees' doorsteps.
With you from start to finish.Don't sweat the small stuff – we'll handle everything from ideation to delivery.