What makes Bad Brownie different?
We think our brownies are the best in town – in fact in any town we deliver to in the UK.  It's not just us who think so – the Dragons in their Den loved them (click here to read more!) – as have thousands of people who've visited us at food markets over the years, and our tens of thousands of happy online customers.
We are totally passionate about our handmade brownies.  We gave up our day jobs in 2013 because we believe in these brownies, and we our constantly creating and evolving what we bake, to give our brownie-lovers the most luxurious, delicious, chocolatey brownies we can.
WHATS SO BAD ABOUT BEING BAD
You should do cardio 5 times a week, you shouldn't eat carbs after 6pm. You should drink 4 litres of charcoal-purified water daily, you should definitely never drink alcohol. You shouldn't go to bed late. You should floss daily, you shouldn't wear a skirt like that at your age.  You should do your tax return right now, you shouldn't be too picky, you shouldn't say what you really think, you should always put on a brave face.  Ever think that being good is over-rated?
Life isn't about punishment or self-denial.  We're not in the business of making you feel guilt or shame, we're in the business of making perfect little squares of pleasure. Yes, our brownies contain butter, salted caramel, chocolate – lots of it – we refuse to apologise for any of it.  And sure, if you ate them 24 hours a day, you probably wouldn't feel your best. But one or two bites of happiness when you feel like it – well that is something you should feel good about. 
Our Flavours
We find flavours we love, and then we deconstruct and reconstruct again and again, until we feel we cannot improve. Yes, many of you can make delicious brownies at home. But could you – would you – also make the separate layer of fluffy vanilla sponge? And marmalade?
And candied orange that goes into our Jaffa brownie? We salute you if you would but if you don't have the time or the energy, don't worry. We think through every extra layer of detail, technique and work so you don't have to. We put the labour in, to give you the love.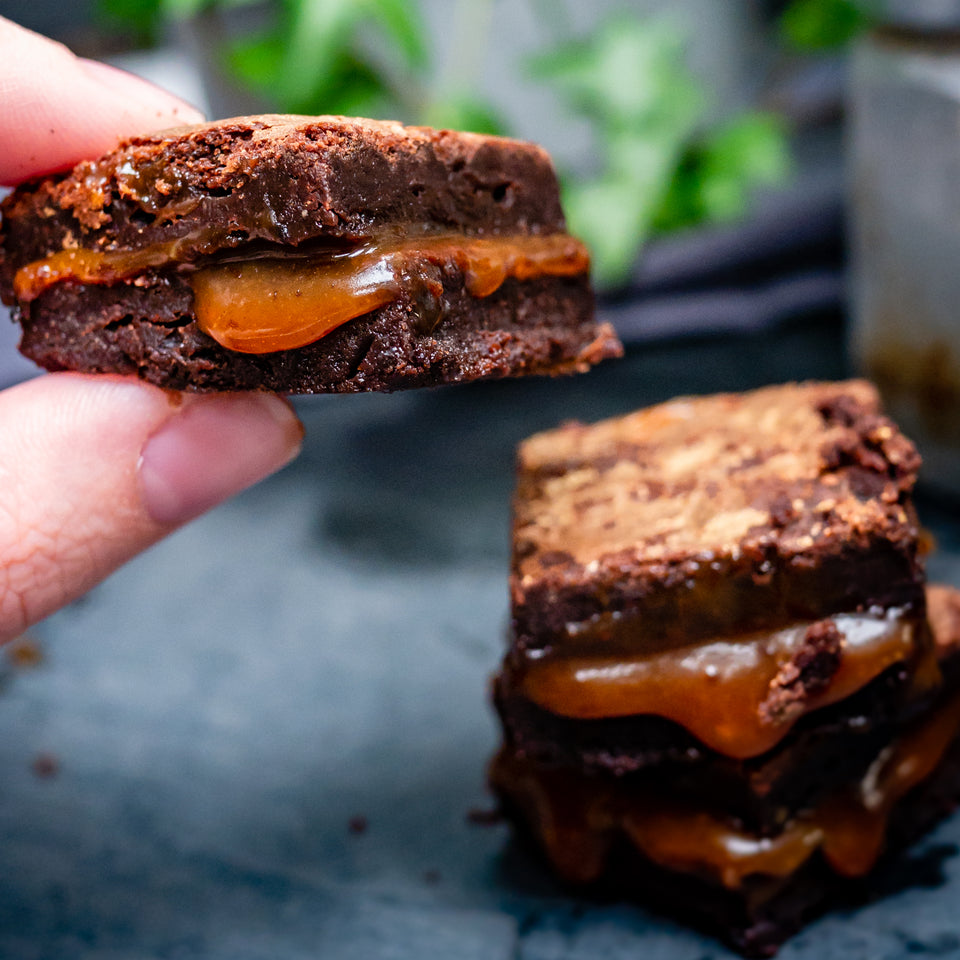 OUR PACKAGING
Opening our packaging isn't just tearing open some cardboard; it's a whole experience of unfolding our exquisitely designed box to get to the goodies within. Making life's little moments even more delicious. 
We know how important it is to make a gift special extra special - it's not just about what our brownies taste like (delicious) but also about how the whole experience feels or how the whole package looks. We've launched our brand new packaging that makes every brownie bite box an extra special gift in its own right - even before scoffing the brownies inside.