Kinder Brownie Pie Recipe
What's not to love about Kinder Bueno? That crisp wafer shell, the smooth hazelnut centre, all dipped in sweet, creamy chocolate…
We've combined two of our favourite things – brownies and Buenos – in our awesome new Kinder brownie pie recipe. This amazing bake features a triple-chocolate brownie 'pastry', filled with hazelnut cream and crunchy Kinder Buenos. This one's a real showstopper, so it's great for dinner parties and other fun occasions.
Who invented Kinder Bueno?
Kinder Bueno was first introduced by Ferrero in 1990. Its name is a combination of two words: the German 'kinder', meaning children, and the Spanish 'bueno', meaning good. There's multiple iterations of the Kinder Bueno around, including white chocolate, dark chocolate, and coconut.
Kinder Brownie Pie Recipe
Ingredients
1.5kg of fudgy (not cakey) brownies
750g of white chocolate hazelnut spread
150g of Kinder Bueno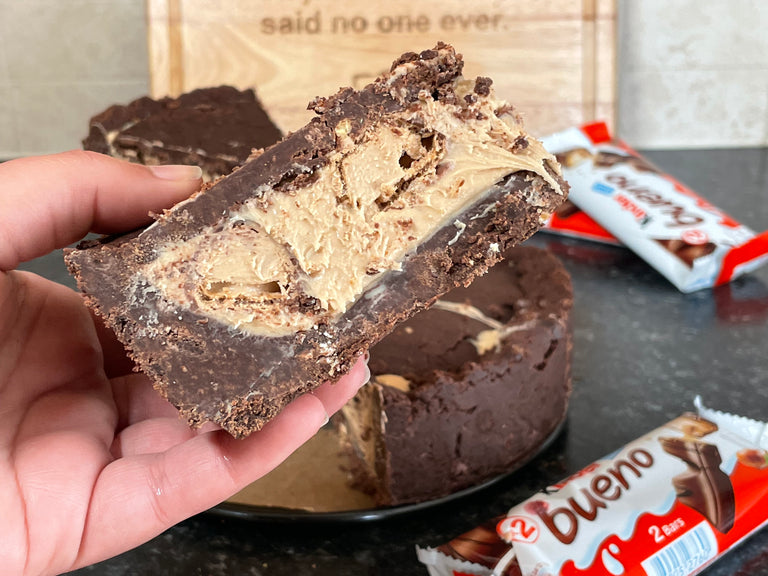 Method
Before making your pie, you'll need to bake 1.5kg of brownie using your favourite recipe. We recommend using a recipe likeBBC Good Food'sthat makes super dense and fudgy brownies (not cakey!), as they'll be easier to shape into a dough.
1- Line an 8" springform cake tin with greaseproof.
2- Add your ready baked brownies into a bowl and, using your hands, get busy squishing and squashing it all together to form a brownie 'dough'.
3- Roughly split the brownie mixture into three equal portions.
4- Press the first brownie third onto the bottom of the cake tin and the second brownie third around the sides of the cake tin.
5- Melt the white chocolate hazelnut spread for 20 seconds in the microwave to loosen slightly. Pour half into the cake tin inside the brownie case.
6- Add a layer of your favourite chocolate bars – we've used Kinder Bueno – pressing firmly into the spread.
7- Top your chocolate bars with the remaining melted spread.
8- Cover the top of your pie with the final brownie third, making sure to seal it well.
9- Refrigerate for a minimum of 3-4 hours. Once chilled, carefully remove from the tin and portion using a large and sharp knife.
Serving Suggestions
This brownie pie is ultra-rich and sweet, so slice small and dish it up with something to complement the flavour like a dollop of clotted cream.
The easiest way to catch up on all the latest Bad Brownie gossip. Read our brownie blog now!