The Bad Brownie Christmas Collection 2022
Salted Caramel Brownie Yule Log, £24
Back by popular demand for 2022! Also available in vegan.
We simply don't believe in doing anything by halves, which is why our Bad Brownie Yule Log just gives you more. Of everything. We've made it using our signature fudgy brownie base, which has been hand-rolled with a satisfyingly thick and firm caramel sauce which won't slide out when it comes to dishing up. We've then gone and garnished this bad boy in a silky smooth layer of ultra-rich dark chocolate, which just adds a lovely bit of bite before you get into the soft, squidgy centre. And then to top it all off (and make it even more Christmassy), we've doused our logs in shimmering gold dust for that festive bit of sparkle that makes everyone go weak at the knees.
Please note, this year's log is smaller than last year's version.
Cookies & Cream Brownie Yule Log, £27
Fans of our cookies & cream Easter egg, rejoice – you loved the flavour so much that we decided to reimagine it for Christmas 2022. We're all about a bit of aesthetically pleasing colour contrast, which is why the brownie itself has an ultra-dark, intense hue, purposefully designed to mimic an actual Oreo. We've then gone ahead and rolled it with a super creamy, vanilla-flavoured fudge filling, before enrobing the whole log in molten white chocolate and drizzling it with even more chocolate to finish (plus plenty of Oreo crumbs). This log is slightly girthier, heftier and heavier than its salted caramel cousin, making it an extra-special showstopper to display on the table this Christmas.
Giant Brownie Christmas Pudding, £22
Christmas puddings are a love 'em or hate 'em kinda deal (we've had a debate or five over at Bad Brownie HQ), but we guarantee this epically sized pudding ball will spark joy with every mouthful this season. Much tastier than your average Christmas pud, we've taken our classic brownie batter and tossed a medley of dried fruit and festive spices into the mix. When you bite into each ball, you'll find them stuffed with a surprise filling - a creamy brandy butter center that melts in your mouth and adds a boozy hit to each bite. Next, we've dipped each pudding ball in velvety dark chocolate and allowed it to harden before adding an artful dollop of white chocolate that spills over the top in lovely, drippy globules. And finally, we've added a pinch of pistachios and popped a festively red glacé cherry on top.
The Purple Brownie, £25
There's nothing more devastating than being handed the Quality Street box on Christmas Day and realising that all the purple ones are gone. So instead of relying on the generosity of relatives to save a favourite chocolate for you, indulge in The Purple Brownie instead – just keep it away from those sticky-fingered chocolate thieves. Inspired by the popular Quality Street chocolate, this impressively fudgy brownie is stuffed full of our gorgeously gooey, handmade salted caramel sauce alongside a handful of crunchy hazelnuts. It's then enrobed in silky milk chocolate before being wrapped in purple cellophane, so it feels just like unwrapping the original (only bigger and Badder).
Christmas Brownie Bites Box, from £17
Available in 12, 16 or 24 bite sizes.
Like Charlie's Angels or Destiny's Child, our limited-edition Christmas brownie flavours are another rather delicious and highly lickable trio that you can't quite get enough of… ready for you to unwrap and dive straight in. Perfect for gifting, or just for scoffing in one sitting by yourself.
Un-Bailey-vable: Dark chocolate brownie, topped in a smooth chocolate liqueur-infused ganache with white chocolate drizzles and crisp chocolate pearls.
In (Mince) Pie We Crust: Dark chocolate brownie saturated with rich, fruity mincemeat, topped in silky brandy butter and drifts of golden pie crumbs.
Gingerbrownie: Dark chocolate chocolate brownie blended a touch of warming spices, topped with gingerbread crumbs and tiny gingerbread men.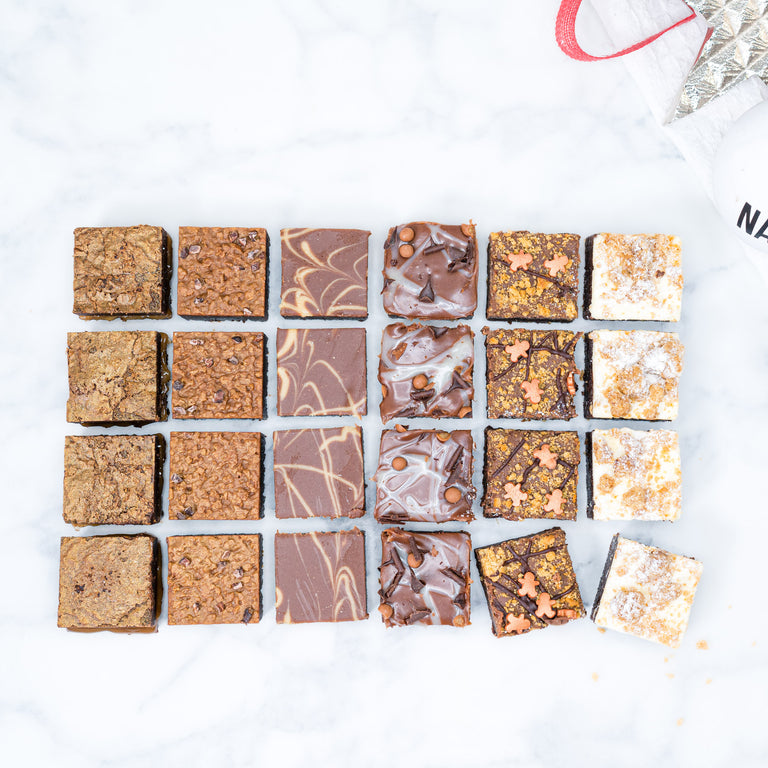 Un-Bailey-vable Brownie Bites Box, £15
You know where a bit of booze really shines? In our brownies. Specifically, Irish cream… That sweet combination of Irish whiskey, cream and chocolate really makes the richness of our brownies pop. Our un-Bailey-vably delicious (wink wink) new brownie box – which will deliver the Christmas spirit into even the most stubborn of Scrooges – is crammed with twelve soft, squidgy brownie bites topped in a velvety chocolate liqueur-infused ganache.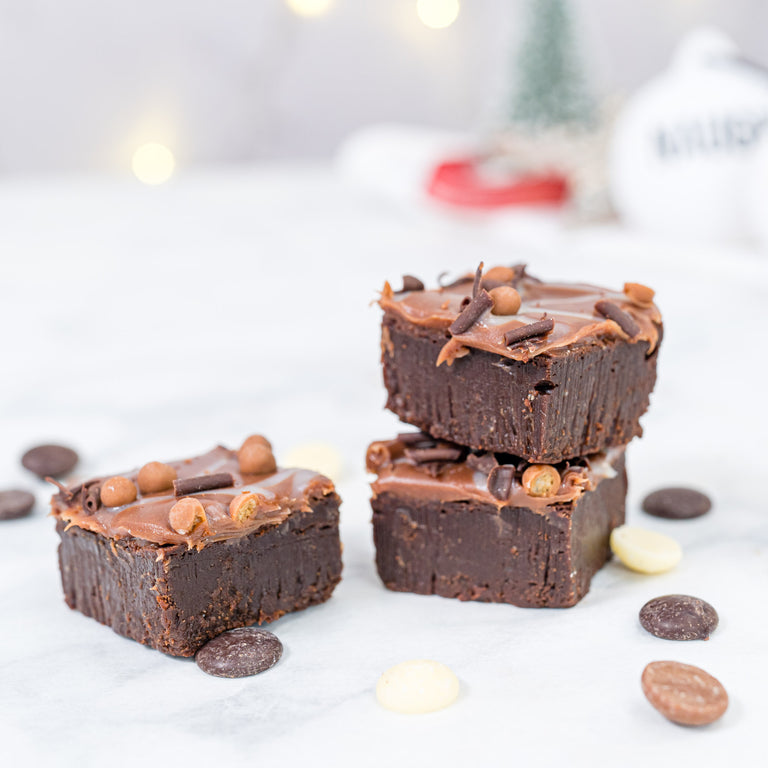 Brownie Coal, £10
This isn't your classic Christmas coal found in the stockings of naughty children… This is coal that's worth behaving Badly for. While these weighty lumps might look unnervingly realistic, we promise they're a whole lot more delicious than chomping down on charcoal (gross). Crack one open and you'll find an outrageously gooey salted caramel centre oozing out from a thick wodge of moist, classic chocolate brownie. Plus, each lump is rolled in ultra-dark cocoa powder for a wickedly realistic effect as you're biting in. This might just be the perfect naughty-or-nice stocking stuffer for friends and family.
Brrr-ownie Snowman, £10
We might be dreaming of a white Christmas, but we'll settle for rain and our ultra-delicious Brrr-ownie Snowman instead. This too-cute-to-eat character is made from our insanely fudgy triple-chocolate brownie, before being spread with silky smooth white chocolate ganache. And because no snowman worth his salt is complete without his accessories, we went ahead and dressed him up with chocolate buttons and a teeny carrot nose.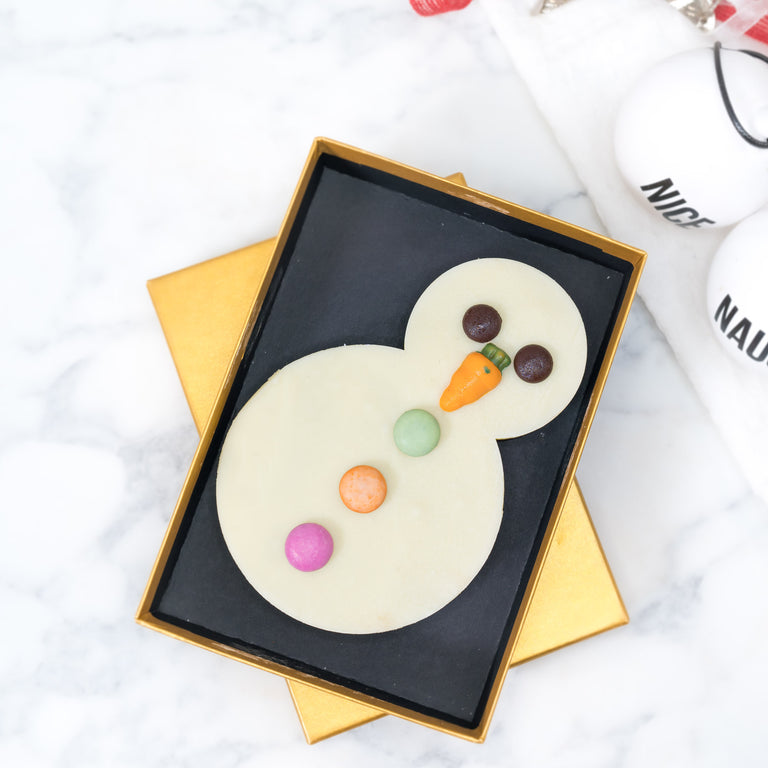 Mince Pie Brownie Bar, £6.99
Our signature brownie bar, all dressed up for the Christmas party in a blanket of rum butter and thick drifts of pastry crumble. This little brownie has had his batter mixed with moist chunks of mincemeat for an extra-fruity and juicylicious texture that bursts with festive flavour at every mouthful. 
The easiest way to catch up on all the latest Bad Brownie gossip. Read our brownie blog now!