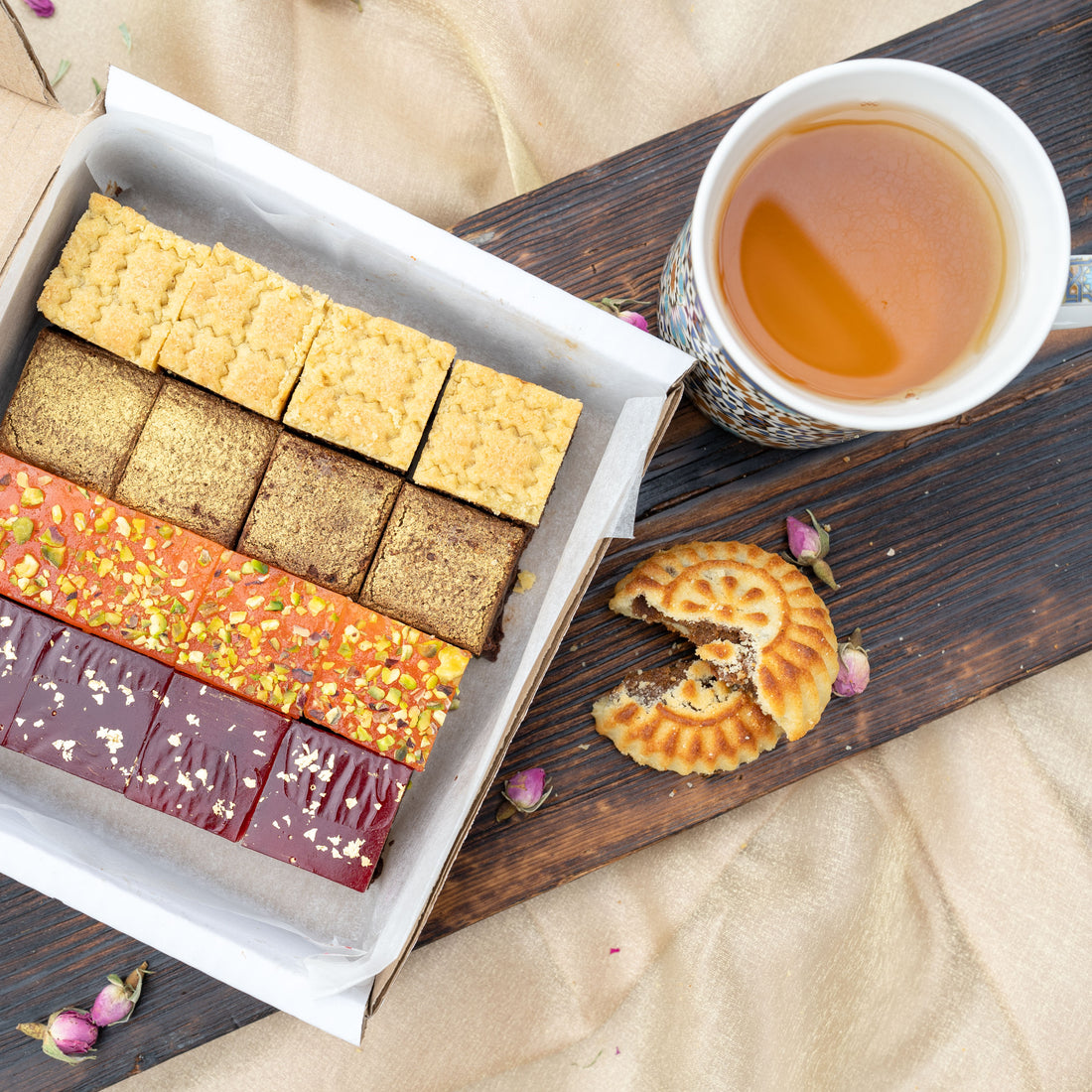 Elevate your Iftars this year with our new Eid Brownie Bites box.
This limited-edition box is perfect both for bringing to Iftar gatherings during Ramadan and gifting for Eid. We've even designed a beautiful green and gold Eid Mubarak gifting sleeve (included with every Eid box!), just for the occasion.
Each 16-bite box features four flavours: Ma'amoul, Orange Blossom, Rose & Raspeberry, and Salted Caramel.
Discover more about our three stunning new flavours below… 
Date Filled Ma'amoul
As the name suggests, this flavour is inspired by ma'amoul cookies!
For those not in the know, ma'amoul cookies are a traditional Middle Eastern shortbread made from semolina flour, which has a unique coarse texture and butter-yellow hue. Ma'amoul cookies are usually filled with a mixture of dried fruit and nuts, and are traditionally baked for religious festivals – largely Eid, but occasionally for Easter, too.
Our ma'amoul-flavoured brownies stay true to the original with a base made from a blend of dark chocolate brownie batter, dates, and chopped walnuts. We've also topped each brownie bite in a buttery, golden brown semolina cookie topping.
Rose & Raspberry
Flakes of real gold leaf suspended in ruby red jelly make this Arabic-inspired brownie one to remember.
Traditional rose water is infused throughout the brownie base and jelly, which adds a delicate floral hint to the raspberry-flavoured jelly layer. Below that is sandwiched a light vanilla sponge – much like our Orange Blossom flavour – and a thick wodge of our signature chocolate brownie.
Orange Blossom
Our striking orange blossom brownies pay homage to the floral flavours frequently found in Middle Eastern cuisine.
We used traditional orange blossom water to capture a fragrant, aromatic taste in our brownie. Orange blossom water is obtained by distilling fresh bitter orange blossoms, and is used in flavouring everything from pastries to coffee.
This brownie features an orange-infused brownie base, layered with a light vanilla sponge and topped in orange blossom jelly. Bright green pistachio pieces add both a slight crunch and a colourful, eye-catching finish.
Eid Brownie Delivery
Eid brownies are available using our regular next working day delivery service or our pre-order service.
Please note, orders must be placed before 2pm for delivery next working day.
The easiest way to catch up on all the latest Bad Brownie gossip. Read our brownie blog now!